Win $25,000 and create the lifestyle of your dreams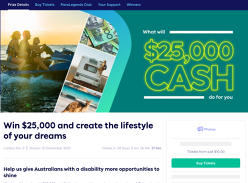 Paralympics Australia
Added: 01-Nov-21
Closes: 15-Dec-21
By purchasing a lottery ticket, you are deemed to have accepted these terms and conditions. Fundraising services provided by TMS Global Services Pty Ltd ACN 089 771 835 (TMS) t/as Jumbo Fundraising (Jumbo Fundraising) located at 2/601 Coronation drive Toowong, Queensland, 4066. The Victorian Commercial Raffle Organisers Licence is held by TMS. This Lottery activity is conducted for Paralympics Australia (the Beneficiary).
Promoter:
[email protected]
Beneficiary: Name: Paralympics Australia Limited
Address: Building A, 1 Herb Elliott Avenue, Sydney Olympic Park NSW 2127 Australia
ACN: 061 547 957
Name of the Lottery: ParaLottery
Permit Number/s: QLD Licence: 220287 NSW Licence: GOCAU/2379 ACT Permit Number: R21/00140 VIC Permit Number: 10368/21
Entry is not open to residents of WA and SA
Number of tickets to be sold: 12,500
Price per ticket: Each single ticket is priced at $10.00AUD
Lottery entry procedure: To enter, eligible entrants must purchase one or more lottery tickets from the website Website address: www.paralottery.com.au
Will ticket books be sold?: Yes, eligible entrants can buy multiple tickets
Maximum number of Entries: NilS
Will there be a discount for purchasing a book?: No
Book buyers prize: No
Entry Requirements: Open to all residents of States or Territories excluding Western Australia or South Australia, aged 18 years or older at the time of purchase of a ticket in the lottery. If requested entrants must be able to produce proof of age and residency, prior to being awarded a prize. Entries not completed in accordance with these terms and conditions are ineligible. The Lottery Manager reserves the right, in its sole discretion, to disqualify individuals who it has reason to believe have breached any of these terms and conditions, engaged in unlawful conduct, or engaged in practices to jeopardise the fair and proper conduct of the lottery. People engaged in the management, sales, or supervision of the lottery and their immediate family, as well as the Promoter's employees, directors, managers, and immediate family, are all ineligible to enter the Lottery.
Lottery Prize: For winners residing in an eligible state or Territory other than Victoria: $25,000.00 AUD For winners residing in Victoria: $25,000.00 AUD equivalent in gold bullion
The Lottery Manager will use its reasonable endeavours to provide the winner with the Prize for which they are eligible as listed above. The Lottery Manager reserves the right, in its absolute discretion, to substitute the Prize with that of an equivalent value. A winner is only eligible to receive the Prize listed as applicable to that winner's State or Territory of residence. No winner shall be entitled to exercise any discretion or elect for a particular Prize.
Value of Prize: $25,000.00 AUD
Duration of the lottery: 14 weeks
Start date: 9:00 am AEST on Friday 3rd September 2021
Closing date: 5:00 pm AEST on Friday 10th December 2021
Draw date & time: 2:00 pm AEST Wednesday 15th December 2021
Location of draw: 601 Coronation Drive Toowong QLD 4066
Method of drawing: Random number generator
Witness for the draw: An appropriately qualified witness
Notification of winner: Winner will be contacted by phone and email. Winner will also be published on www.paralottery.com.au by Monday 20th December 2021. If the winner is unable to be contacted for any reason within twenty-eight (28) days from the date of the draw, the Lottery Manager will liaise with the relevant regulatory authorities to resolve the matter.
Prize Claim Date: The winner will have twelve (12) months from the date they are notified of the win to claim their Prize.
Unclaimed Prize arrangements: If the Prize is not claimed by the Prize Claim Date, the Lottery Manager reserves the right to sell the prize in accordance with the relevant regulatory authority requirements
Method of advertising: Digital channels
Manner of resolving disputes: A complaint may be made in person, in writing or by email to
[email protected]
We will receive your complaint, record the details, give it fair and genuine consideration and deal with it in an effective way to achieve fair outcomes. We will investigate your complaint and consult with relevant staff (where appropriate) within a reasonable timeframe, having regard to the nature and complexity of the complaint. We will keep you and the person complained about (if applicable) informed of progress and for written complaints will do so within 21 days. If appropriate and where possible, we will recommend changes to remedy the situation, and then inform you of the decision made and the reasons for the decision. We will treat all information with respect and handle personal information in accordance with our Privacy Policy. We will take action to resolve the complaint.
Additional Terms: The winner must provide all information and sign all documentation necessary to enable the Lottery Manager to award the winner the Prize. In the event payment for your purchase of a ticket is received after the draw has taken place then you will automatically be entered into the next draw. If you do not want to be entered in the next draw, please contact us within five (5) business days of your order being processed, so we can issue a refund. We can be contacted by emailing:
[email protected]
The Lottery Manager reserves the right, in its sole discretion, to recover damages, or other compensation it may deem sufficient, in the event an individual breaches these terms and conditions. The Winner agrees to participate in promotional activities associated with winning, including, but not limited to, being interviewed, and photographed. The Winner grants to the Lottery Manager, and the Beneficiary, exclusive rights to use such audio, footage, and/or photographs. The Winner is not entitled to a fee or other payment for the use of these promotional activities. The gold bullion Prize is valued referable to as the purchase price when purchased from Ainslie Bullion Company (ABN 14 737 209 486), as at the date of purchase. Once awarded, winners of gold bullion shall be solely responsible for determining whether and/or when to cash the gold bullion and the Lottery Manager, Promotor and Beneficiary shall offer no advice nor accept any responsibility whatsoever for any selling costs, variations in market price, loss/destruction or any tax or other financial implications incurred or suffered by the winner following the award of the prize
Privacy: Details of how the Lottery Manager uses, collect, store, and manage personal information can be found on our Privacy Policy which is linked here. If you have any questions or concerns regarding our Privacy Policy, please email us. The Lottery Manager and its authorised marketing partners reserve the right to send marketing communications to any entrant that opts-in to receive communications from the Lottery Manager and its authorised marketing partners. By making a purchase, you are opting in to receiving marketing communication. The entrant can advise the Lottery Manager at any time if they no longer wish to receive this information, by emailing the Lottery Manager's Privacy Officer. The Lottery Manager and its authorised marketing partners may continue to send communications to those who have purchased a ticket in the lottery for an indefinite period unless, and until, advised otherwise by the entrant.
Lottery unable to be conducted: If for any reason, in the reasonable opinion of the Lottery Manager the Lottery is unable to be undertaken as intended, the Lottery Manager reserves the right, in its sole discretion, to cancel, modify, or suspend the Lottery subject to relevant regulatory authority requirements.
Limitation of Liability: The Lottery Manager, its related entities, the directors, employees, officers, managers, and employees of the Lottery Manager and its related entities (Lottery Managers Associates), the Promoter, its directors, employees, officers, managers, and employees of the Promoter, will not be liable for any loss, damage, or personal injury sustained as a result of the conduct of this Lottery. To the extent permitted by law, the Promotor and/or the Lottery Managers Associates are not liable for any loss suffered by reason of any act, omission, or negligence on the part of the Lottery Manager in connection with this Lottery. Notwithstanding the above, in the event the Lottery Manager, or the Lottery Managers Associates are found to be liable in connection with this Lottery, the maximum aggregate liability is limited to $100.00
Lottery Manager: TMS t/as Jumbo Fundraising will provide the fundraising services There is an agency agreement with TMS GLOBAL SERVICES Pty Ltd (ACN 089 771 835) to promote or sell tickets this raffle for reward